Top Flooring Trends You'll See in 2022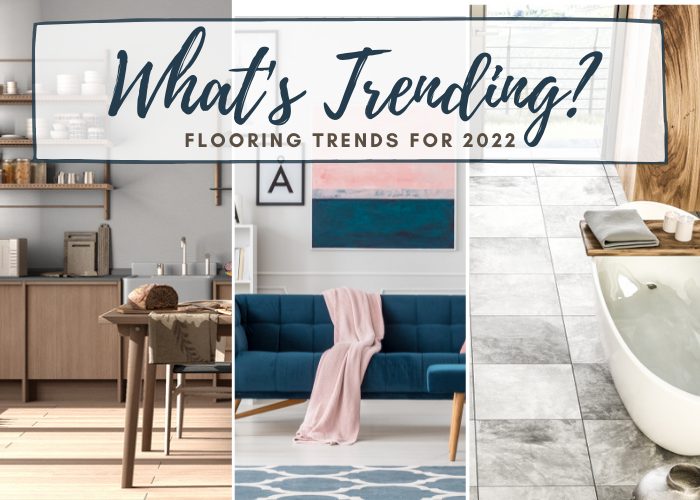 If you are finally ready to tackle that remodel project you've been dreaming of, congrats! This is an exciting time for homeowners like you who want to make your space your own.
To help you get started, we've outlined all of the top flooring trends you can expect to see in 2022. This overview will help you pick out a design that is both modern and stylish. Keep reading to learn more about next year's big fashion take-aways when it comes to new floors!
Expected Trends for Flooring in 2022
The material you choose will have a direct and drastic impact on your living space. Some flooring will make a home feel cool and modern, while other products will have a warm and traditional effect. So where do we start?
Picking the best flooring material for your remodel comes down to three factors. As you shop, consider:
your style, your lifestyle and your budget.
Fortunately, 2022's big flooring trends feature a wide range of affordable products that are also attractive. Ready to discover the industry's most popular materials going into the new year?!
Vinyl Flooring Trends: In 2022, technology will continue to improve, so vinyl materials will look and feel that's nearly indistinguishable from real wood or stone. Plus, luxury vinyl plank flooring is known for its affordability and ease of installation, so homeowners looking to DIY will be strongly considering LVP.
Because vinyl is warm, affordable, and stylish, we can expect the vinyl trend to continue for years, if not decades.
TILE Flooring Trends: Tile has been a classic and popular flooring choice for many years. In 2022, you can expect to see these kinds of tile products:
Marble-look tiles that are affordable – but look anything but cheap.
Decorative tiles that lean toward art deco or Moroccan styles.
DIY-friendly tiles that allow you to easily install them yourself.
Designer tiles that are hexagon, fan, or arabesque in shape.
CARPET Flooring Trends: Hard floors seem to be taking the lead for 2022's top flooring trends. But we don't expect carpet to take a backseat, either.
You might see more carpet tiles, area rugs, and high-plush carpets. Carpeting continues to provide a warmer, softer feel underfoot, which is why it's often more popular in common living spaces like living rooms and bedrooms than, say, tile flooring. For homeowners who really want to make a statement, geometric carpet patterns will be on the rise as well.
LAMINATE Flooring Trends: Laminate is popular for both commercial and residential spaces, and that doesn't look like it will change in 2022. Next year, we expect to see home and business owners gravitate toward light wood and wide-plank laminate flooring. Additionally, homeowners will be looking for features like water-resistance, stain-resistance, embossed/distressed textures, and high-variation options.
HARDWOOD + BAMBOO Flooring Trends: For homeowners who want a luxurious look and natural material, bamboo flooring and traditional hardwoods will remain the go-to materials. Nationwide trends tend to lean toward authentic looks and quality materials, so we expect these floors to remain immensely popular. 
The Best Looks for Flooring in 2022
Now that you are familiar with the industry's most popular materials, you are ready to consider what looks are expected to see heightened popularity going into the next year. You'll find that homeowners continue to trend toward natural and stylish aesthetics.
Natural looks are without a doubt the biggest trend going into 2022. But that doesn't mean we won't see some more creative and artistic floors as well. Bold patterns and colors will make their way into homes via carpet, tile, vinyl, and laminate. If you're looking for a new floor with a little personality, decorative is the way to go.
For homeowners wanting a timeless and durable aesthetic, natural and natural-look floors will be the top choice. We expect to see an influx of purchases made for marble-look, stone-look, and wood-look floors. You may even see floors that resemble concrete, travertine, or limestone.
The Best Colors for Flooring in 2022
According to Hardwood Floors Magazine, the flooring trends for color will largely remain the same in 2022. In the past few years, we've seen a great demand in products and materials of these stains and colors: Gray Stains
Gray-stained flooring gives a space a more modern and contemporary feel, which remains a hugely popular aesthetic. They are also a great choice if you need to match your floors to white cabinets or modern furniture. And if you are looking to sell your home in the near future, a floor with a gray stain is sure to pique potential buyers' interest.
Dark Stains: Dark stains look to remain popular, and it's no surprise why. These materials are less susceptible to fading and have a warm and timeless appeal.
White Stains: Today's homeowners lean toward a white, bright, and cheerful aesthetic. That's why white-stained flooring is expected to remain popular in 2022.
The Best Patterns for Flooring in 2022
Once you know the color and material, you'll need to decide what kind of pattern you want for your floor. This may seem like a straightforward decision, but in 2022, we can expect to see even greater variety in the options for patterned flooring.
Wide Planks: No matter what material, color, or texture you opt for, you can expect to see a large number of wide plank products on the market. In fact, these products will soon be so popular that they'll begin to make thin and narrow plank floors look outdated.
In 2022, we can expect flooring planks to be available in greater widths and lengths than in years past.
Checkered Floors: Checkered flooring has long been popular in kitchens and bathrooms. In 2022, we expect the trend to seep into other rooms throughout the home as well.
The Best Textures for Flooring in 2022
You want your floors to look good, but it's important that they also feel good. The texture you choose will play into both aspects.
For Hardwoods: As we said, hardwoods are expected to maintain (and even increase) their popularity in 2022. But not all hardwood floors are created equal. Here are some of the top textures we expect for wood floors next year.
Hand-scraped: Hand-scraped hardwoods are actually expected to decrease slightly in popularity over the next few years. But we still expect to see them plenty in 2022.
Smooth: Smooth floors will continue to grow in popularity well into 2022 and beyond. That's because they are modern-looking and comfortable. Plus, they give a look of uniformity that is great if you want your home to appear clean and straightforward.
Distressed: Like hand-scraped floors, distressed floors may also see a minor decrease in popularity. But homeowners who are invested in a farmhouse or otherwise rustic look will still tend toward distressed bamboo and hardwoods. These floors have an appearance of age and character that fits this particular aesthetic extremely well.
For Carpets: Carpets are classic. But if you really want to make an impact in 2022, you'll focus on texture in addition to color and pattern.
Shag/Frieze: Shag carpets are making a comeback – only this time they come under the name of 'frieze' carpeting. It's no surprise that homeowners are returning to this long-ago favorite; they're comfortable and match nearly any aesthetic.
But here's a pro tip: Stick to the gray colors we mentioned earlier. Bold colors are not on-trend for carpets heading into the new year.
Berber: Berber carpet is extremely popular for commercial property owners. It's less commonly used in homes, but if you're in need of something durable, it may be worth a look.
Cut and Loop: We mentioned that creative patterns are a major trend right now. For carpets, this takes the form of cut and loop textures. Expect them to be big for 2022.
Expect to See More Sustainable Flooring in 2022
As more homeowners prioritize their environmental responsibilities, flooring trends have begun to lean toward more eco-friendly materials. In 2022, we expect this trend to continue to flourish.
In fact, we believe that eco-friendly flooring will become so popular that homes with these materials will have higher sale values and spend less time on the market.
With that being the case, there are two primary materials we expect to see increase in popularity: Homeowners are likely to buy more bamboo flooring and floors made from recycled materials in 2022.
Bamboo Flooring
Bamboo flooring is extremely popular for a variety of reasons. At the top of the list is the fact that this material is sustainable and environmentally friendly. Because bamboo is fast-growing and self-regenerating, it can be harvested yearly without any major environmental consequences.
Recycled Materials: In 2022, many carpet manufacturers will be making products created from recycled materials like natural fibers. And if you're willing to shop around, you can also find hard flooring materials that are reclaimed or recycled. A few examples of materials that are recycled and used to create flooring include reclaimed/salvaged wood, cork, rubber, and terrazzo.
Credit to: BRIDGETT O